USA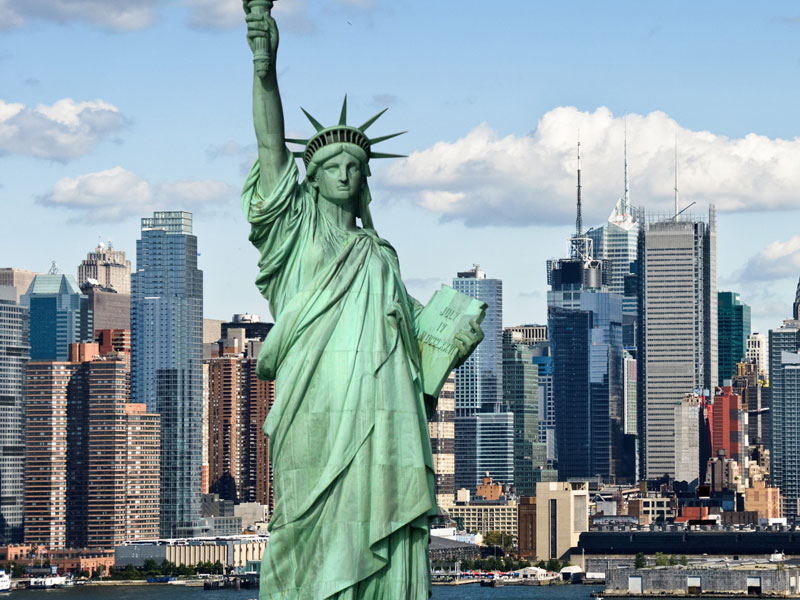 As the home of over 150 universities in the QS World University Rankings®, the US remains the world's leading destination for international students. In 2013/14, the number of international students choosing to study in the US rose to a record high of 886,052 students, according to the Institute of International Education's Open Doors report. The most popular states for international study in the US were California, New York and Texas, and the most popular subjects were business and management, engineering, mathematics and computer science.
Of course, it's not just the high standard of US universities that draws students in. Whether you're attracted to the bright lights and fast pace of the big city or to miles and miles of unspoiled wilderness; sun-kissed beaches or lush forests; the rustic and traditional or the sleek and modern, this huge and incredibly diverse country has something for everyone.
Universities in the US
The sheer volume and variety of universities in the US means that you can be pretty confident of finding a suitable institution in your preferred surroundings. And if you don't get it right the first time, moving between universities in the US is not uncommon.
Undergraduate degrees at US universities typically take four years to complete. The first part of the degree is usually spent studying a wide range of subjects – some required and some electives – after which students choose the subject or subjects on which they want to focus – known as "major(s)".
You may also earn a "minor" qualification alongside your major by completing classes in an additional field. This is often used to supplement the major degree. For example, business majors often minor in economics, while liberal arts majors may minor in philosophy. Some students also choose minors simply to explore a field they're interested in, without having to commit to a full study of the subject, and regardless of whether it pertains to the field in which they seek employment.
Find your perfect US state:
Alabama
Illinois
 Nebraska
South Dakota
Arizona
Iowa
 Nevada
Tennessee
Arkansas
Kansas
 New Hampshire
Texas
Alaska
Kentucky
 New Jersey
Utah
California
Louisiana
 New Mexico
Virginia
Colorado
Maine
 New York
Vermont
Connecticut
Maryland
 North Carolina
Washington
Delaware
Massachusetts
 North Dakota
Washington DC
Florida
Michigan
 Ohio
West Virginia
Georgia
Minnesota
 Oklahoma
Wisconsin
Hawaii
Mississippi
 Oregon
Wyoming
Idaho
Missouri
 Pennsylvania
Indiana
Montana
 Rhode Island
Student Cities in the US
Find out more about some of the US's major student cities…
New York City
 
As well as 'The Big Apple' and 'The City That Never Sleeps', New York City is sometimes called the 'Capital of the World'. Few other cities conjure up as many instant associations, be it the skyscrapers that serve as towering monuments to the city's financial power, the legendary music and fashion scenes, the bright lights and glitz of Broadway or something else altogether. Everyone has their own ideas about NYC, whether they've personally experienced it or not.
There is no shortage of top universities in New York either, including Columbia University (ranked 20th in the QS World University Rankings® 2016/17) and New York University (joint 46th).
Boston
If you want to be surrounded by the world's best and brightest students and academics, then you can't really do much better than Boston – especially if you include the nearby student-centered town of Cambridge, MA. This is the location of the Massachusetts Institute of Technology (MIT) and Harvard University, ranked first and third in the world in the 2016/17 rankings. Other top universities in Boston include Boston University (89th), Tufts University (238th), Boston College (joint 299th), Northeastern University (joint 361st) and Brandeis University (401-410).
The Boston area is well known for arts and culture, particularly when it comes to contemporary classical music. It's not all serious academia and highbrow culture though: the city is also renowned for its pubs and bars, and its fondness for sports.
Chicago
 
In terms of wealth, population and cultural impact, Chicago only lags behind the behemoths that are New York City and Los Angeles. From a distance, it may appear to be a sterile mass of imposing skyscrapers, but underneath all that glass, metal and concrete is a living breathing city, known for its lively mixture of cultures, its vibrant live music scene and nightlife, and its thriving intellectual life.
 High-ranking universities in Chicago include the University of Chicago (10th in the QS World University Rankings 2016/17) and Northwestern University (just outside the city) at 26th. Other strong options are the University of Illinois at Urbana-Champaign (66th), the University of Illinois, Chicago (UIC) (joint 187th), and Illinois Institute of Technology (401-410.)
San Francisco & the Bay Area
Universities in San Francisco and the Bay Area which surrounds it include two of the world's most prestigious and best-known: Stanford University and the University of California, Berkeley, ranked second and 28th respectively in the QS World University Rankings 2016/17. The intellectual might of this pair has massively contributed to the area's wealth, which is largely founded on the renowned technology hub known as Silicon Valley.
San Francisco itself, and the branch of the University of California which shares its name, is also known for its ground-breaking biomedical research. Add mild weather, a liberal outlook and a solid party culture, and you can see the appeal for yourself.
Los Angeles
 
Los Angeles will forever be primarily defined by the creative industries on which its wealth is founded: music, television, and – most of all – film. Other things that might leap to mind when you think of the city are the bright Californian sun, beaches, and the perpetual pursuit of the body beautiful – after all, this is the home of "Muscle Beach".
If you'd rather be exercising your mind than your body, there are plenty of prestigious universities in Los Angeles, including the University of California, Los Angeles (UCLA), 31st in the QS World University Rankings 2016/17. Worth a look if you want to combine studies with star-spotting!
Applications, Fees & Visas
Tuition fees at US universities
 
In terms of fees, US universities do not tend to differentiate between domestic and international students. Public universities charge lower fees for students from within the same state compared to everyone else, while private universities usually have one set fee for everyone.
However, fees do vary significantly from university to university. Studying in the US certainly won't be cheap, but most US universities are very good at providing accessible information about the expected cost of study – including tuition fees, course resources, accommodation, food, insurance and other expenses.
There's also a good chance you will not have to pay the full tuition fee amount. At many universities in the US, a majority of students receive financial aid, via various grants, scholarships, loan and work-study schemes.
US financial aid
US financial aid is usually supplied based on two distinct criteria: merit-based and need-based. Need-based aid is based on an assessment of the student's financial circumstances, while merit-based aid considers academic grades, athletic performance, involvement in organizations and other outstanding talents.
While international students are not eligible for federal aid provided by the US government, many universities in the US provide their own aid schemes – both need- and merit-based. Five US universities also offer fully need-blind admissions to domestic and international students: Amherst, Yale, Princeton, MIT and Harvard. This means students are accepted without any consideration of their ability to pay, and the university then pledges to contribute as much as is necessary to enable them to attend.
If you want to get an idea of what US financial aid you're eligible for, use the 'net price calculator' on university websites (all institutions are required to offer this service).
US university applications
To start your application to study in the US, you will need to apply directly to each of the universities you're interested in. Remember that athletic recruitment and sports scholarships follow a slightly different timeline to regular applications, so it's worth checking the application deadlines early (1-1 ½ years before enrolment) to avoid missing out.
Entry requirements for each university are different, but most involve completing an admissions test or essay, the SAT or ACT admissions tests, and providing recommendation letters from teachers. On top of this, most universities ask for a transcript of your grades and a personal statement.
If you are accepted you'll be entered into an international student database called the Student and Exchange Visitor Information System (SEVIS), and sent a copy of the information stored on this, which you will need to check for accuracy.
It's also important to ensure that you pay the application fee (the SEVIS I-901 fee) for this database service, which will be US$200. A few universities also allow international students to apply for free online. The university will then provide you with a Form I-20 to present to the US embassy when you attend your visa interview.
US visa requirements

Once you've been accepted to study at a US university, you will then be ready to apply for your F-1 non-immigrant visa. In order to obtain this, you will need to arrange an interview at your local US embassy, following the US visa requirements process below:
Pay the MRV visa application fee of US$160 (the embassy will tell you where you should pay this).
Complete a DS-160 form online, uploading a photograph.
Bring to the interview your acceptance letter, proof you've paid all the fees and filled in the right forms, the Form I-20 or Form DS-2019, which is a Certificate of Eligibility, and a passport which doesn't expire until six months after you complete your degree.
The decision to give you a visa will be in the hands of the consular officer. Their decision will hinge on three things: whether you can financially support yourself, whether you can show you can and want to return home after graduating (getting a work visa is a whole different process), and whether you can prove your academic results to date.
The last of these may involve you proving your proficiency in English. You will also have to provide evidence of this to your university at the application stage.
Additional documents may be requested to establish your academic preparation, your intent to depart the US upon completion of your course of study, and how you will pay your financial costs. Make sure you have these with you when you go to the visa application interview.
Additional demands will be made if you have a criminal record, or you're an expert in certain areas of science and technology.
You can receive your US study visa a maximum of 120 days before your course's start date, but processing can commence before this date. You cannot actually enter the country until 30 days before the beginning of your course, unless you have a visitor visa. This last stipulation also applies to those who would normally not require a visa for short stays in the US.