Australia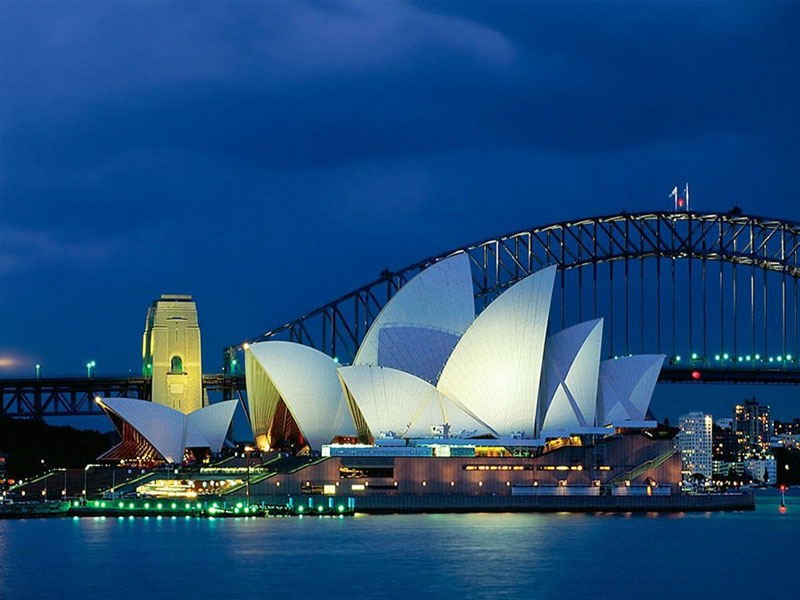 Want to study in Australia? We're not surprised! It's one of the world's most popular study destinations, and it's not difficult to understand why…
What comes to mind when you think of Australia? Sandy beaches and a deep azure ocean, cold cans of lager, and barbeques? Perhaps you might add some weird and wonderful creatures (amongst which more than a few are poisonous enough to kill you), miles upon miles of unpeopled wilderness, and an almost maniacal love of sport.
There is a large element of truth to these common suppositions. Australia does boast two beaches known as the Eighty Mile Beach and Ninety Mile Beach (and 10,683 other smaller beaches on its mainland alone), Australians – particularly students – do enjoy a drink on the weekend, and the warm weather does indeed lend itself to the outdoor preparation of food. But this by no means an entire portrait of the country – for one thing, it misses out any mention of Australia's impressive higher education system.
Universities in Australia
Only the United States and United Kingdom have more institutions in the top 100 of the QS World University Rankings®, and they both have significantly larger populations, and, accordingly, far more universities overall.
Six members of Australia's Group of Eight (similar to the US Ivy League) make it into the global top 100, and a total of 35 Australian universities are featured in the international rankings.
Universities in Australia are also known to be extremely keen on internationalization, and are well-prepared to welcome high numbers of international students each year.
The combination of a warm welcome, internationally known universities, and a highly desirable quality of life has made Australia one of the world's leading destinations for international students.
If you choose to study in Australia, you're likely to find yourself in a cosmopolitan environment, in which you will almost certainly be able to seek out country-mates and other internationals if you begin to feel homesick. But, better still, why not immerse yourself in some Australian culture? There's a lot more to it than the stereotypes, but at the end of the day, stereotypes which involve sunny beaches and a solid commitment to having a good time don't really sound all that bad, do they?
Student Cities
Explore Australia's top student cities…
Sydney
The name of Australia's biggest city tends to evoke images of beaches, surfing and drinking, all in the shadow of the nation's most recognizable landmark, the Sydney Opera House. And, sure, it is famed for its party lifestyle. But, like many larger cities famous for their nightlife, it is also bohemian, creative, and intellectual.
If this sounds like your kind of environment, then universities in Sydney provide plenty of choice. Two of Australia's prestigious Group of Eight – the University of Sydney (ranked joint 46th in the world) and the University of New South Wales (ranked joint 49th) – are based in the city, as well as a number of other institutions, including Macquarie University (joint 247th), the University of Technology, Sydney (193rd) and the University of Western Sydney (551-600).
Melbourne
Considered to be the cultural and multicultural capital of Australia, Melbourne is a good alternative for those who perhaps find Sydney a bit too brash – think of it as a sort of San Francisco to Sydney's Los Angeles. However, it's not a pretentious intellectual bubble either – Melbourne's locals are known for their love of sport, and you won't be left wanting in terms of nightlife. It is also notable for being one of Australia's best-preserved cities architecturally.
Universities in Melbourne again include two Go8 institutions, the University of Melbourne (ranked 42nd in the world) and Monash University (65th), as well as the Royal Melbourne Institute of Technology (RMIT; joint 252nd), Deakin University (355th), La Trobe University (joint 386th), and Swinburne University of Technology (441-450).
Brisbane
Australia's third-largest city Brisbane is known for the friendliness of its locals – often considered to be a major factor in the city's growth. Of course, friendliness alone isn't enough to make a city, and it also has a thriving live music scene, a plethora of world-class cultural institutions and – of course – access to plenty of beautiful beaches.
Among universities in Brisbane, the most prominent is the University of Queensland (Brisbane is the capital of the state of Queensland), which ranks at joint 51st in the QS World University Rankings 2016/17. The other ranked institutions in the city are the Queensland University of Technology (276th), and Griffith University (336th).
Perth
If it's the quiet life you're after, then maybe Perth should be quite high up your shortlist. The city lies in splendid isolation on Australia's west coast, and boasts a high volume of relatively unspoiled and quiet beaches. The city itself is uncrowded and peaceful. If you're more into cafés, parks and peaceful beaches than all-night partying, then you and Perth might be a match made in heaven.
Universities in Perth include the University of Western Australia (ranked 102nd), Curtin University (joint 306th) and Murdoch University (501-550), and Perth is also the main location for one of Australia's two private universities, Notre Dame University.
Adelaide
Located in the midst of Australia's chief wine-growing region, Adelaide is the capital of the region of South Australia. Like all of the cities listed here, Adelaide is a coastal city, so can offer the gold and blue shades which characterize Australia's beaches, as well as the lush greenery which provides the setting for the region's vineyards.
Unsurprisingly, given its location, Adelaide is noted for being a good city for lovers of food and drink. It is also, as a result of the many nature preserves and conservation areas which lie within spitting distance of the city, a good choice for lovers of nature and wildlife. Among universities in Adelaide, the highest ranked is the University of Adelaide at joint 125th in our world rankings, followed by the University of South Australia (joint 288th) and Flinders University (551-600).
Australian university admissions & fees
There is no federal or state-level application system for international students applying to universities in Australia, so you will need to apply directly to the university, usually online and often for a fee.
Australian universities certainly aren't cheap, with average tuition fees for international students hovering above the US$10,500 mark. This will vary from university to university and subject to subject – a humanities student will pay substantially less than someone studying medicine. If cost is going to be an issue, then make sure you do some research.
Australian student visa requirements
The Australian student visa you need will depend on what type of course you're going to study. In order to study for an undergraduate degree (or a taught master's degree) in Australia you will need a Higher Education Sector: Temporary Visa (Subclass 573). If you're studying a master's degree by research or a doctorate, the Postgraduate Research Sector visa (subclass 574) is the visa you need.
The process you need to follow will depend on which assessment level citizens of your country fall under. Students from New Zealand are not classed as international students and therefore will not need a visa to study in Australia.
Applications of streamlined visa processing are now available for those who are eligible (studying a higher education advanced diploma, a bachelor's degree or a master's degree by coursework). If you are eligible for streamlined student visa processing, you are not assigned an assessment level, as students eligible for this service are automatically determined to be low immigration risk. Eligible students will also have reduced evidentiary requirements for their student visa application.
You will also need a Genuine Temporary Entrant (GTE) requirement to state your genuine intention to stay in Australia temporarily for the purpose of study. You may need to attend an interview at your nearest Australian embassy for this.
Here's a quick checklist of what it takes to get an Australian student visa:
Acceptance on a course
Australian visa requirements for students mean you must first be accepted to study a course which is registered on the Commonwealth Register of Institutions of Courses (CRICOS). You'll need an online code and a copy of your confirmation of enrolment or an offer letter to serve as proof of this. You will be able to change course afterwards, but it must be to one of the same level, or else you will need to be apply for a new visa.
Proof of finances
Students who fall into assessment level 1 will simply need to attest that they have enough money, while students at all other levels are required to prove that they have at least enough money to cover the living expenses of the first year of their stay. At present this is deemed to be A$18,610 (in addition to tuition fees), which is around US$13,000. Accommodation fees paid to your institution in advance can be deducted from the total. If you are receiving full funding you simply need to provide proof of this.
Medical check-ups/ health insurance
Australian student visaYou may be required to take a medical and/or a radiological check-up to show that you are in good health, but you shouldn't do this unless you are specifically advised that you must. If you are told to take a test then you must attend an appointment with a doctor who has been approved by the Australian immigration department.
You are also obliged to purchase Overseas Student Health Cover – OSHC – unless you are from Belgium, Norway or Sweden, though Swedes must be covered by CSN or Kammarkollegiet for this to apply. You may purchase this cover through your university, or directly from one of the five approved providers. These are Australian Health Management, BUPA Australia, Medibank Private, OSHC Worldwide and nib OSHC. The cost of this insurance is A$437 for a single person for a year, which is around US$300.
Proof of English proficiency
English language requirements for those not from Anglophone countries are set by universities for level 1 and 2 candidates. Level 3 and 4 candidates will need to prove their proficiency with certified test results (the Australian Department of Immigration and Citizenship's website lists eligible tests). The score you will need will depend on whether you are starting a full degree, studying a foundation course, or enrolling on a preliminary English Language Intensive Courses for Overseas Students (ELICOS), which you will have a maximum of 30 weeks to complete.
Criminal record checks
You will also need to show that you don't have a substantial criminal record, and your past and present conduct must not suggest you will engage in criminal activity or incite discord in Australia. You may need to acquire penal clearance or get a police statement for this purpose. You will also need to declare fidelity to Australian values by signing an Australian Values Statement.
Visa applications
Level 1 students can apply online or in person, whereas students from levels 2-4 must apply in post or in person at an Australian embassy if applying for the first time.
You will need to submit evidence of all the above along with application form 157A, four passport pictures and proof of your academic record. All documents should be translated into English. Applications must be made no more than 124 days (around four months) before your course starts. You may be asked to attend an interview at a local visa office.
If you would like to support yourself with a part-time job while in Australia, you will have permission to work included with your visa. You can work a maximum of 40 hours per fortnight when your course is in session and unlimited hours in the holidays. You cannot commence work until you have started your course.